ClayPlay MD10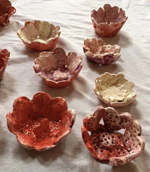 Sculpt crazy 3-D movie characters building igloos, roll out coils for ski slopes, snowboarders, skiers and sledders; shape hearts into special Valentine photo frames, gifts and decorations; and turn pinch pots into hot chocolate cups and much more! Students create a new project every week, and ClayPlayers love making whatever they want for their last class project!
Parents, rest assured… your children are escorted to our classroom. And… a one pick-up convenience for you! When you arrive, your child will say, "Come see what I made!"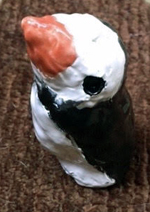 Students experiment with different clay forms (pinch pots, coil, slabs & tiles), design and patterning, red & white clays, rainbow color & bursting crystal glazes, and decorative materials (feathers, beads, ribbon, wire, pipe cleaners). All clay and glazes used are non-toxic, and firings are done off-site in a kiln.
Working with clay is a lot of fun... but also very beneficial to children! * They learn: Dexterity (using their hands/fingers as tools), visual awareness (hand/eye coordination), how to explore their curiosity, shapes and how they relate to each other, math skills and measuring, how to work with others and take pride in accomplishment! Creating with clay has a calm, soothing effect and is a nice way to end the school day! *http://www.pbs.org/parents/education/music-arts/the-importance-of-art-in-child-development/
Our instructor, Michelle Beyman, known as "Mrs. Clay & ClayLady" to her students, teaches ALL ages from her ArtCart – clay, painting/drawing & mixed media. This is her 14th school year with Wilton Continuing Education.
Sessions:
8
Dates:
1/9/2019 to 2/27/2019
Meeting Time:

| | |
| --- | --- |
| Wednesday | 3:30 PM - 4:30 PM |

Location:
Miller-Driscoll School Cafeteria B
Instructor:
Michelle Beyman
Grades:
K, 1, 2
Fees:

$275.00
(Class Fee)
$22.00
(Materials & Firing Fee)

---

$297.00
Total