ClayStory MD11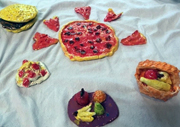 Back by popular demand… Last year, Miller-Driscoll students voted Claymates as their favorite book. After Mrs. Clay observed students mesmerized by storytime in the Miller-Driscoll Library, Mrs. Clay is bringing back her storytime/creating with clay ClayStory class!
We will read a different story each week and create clay characters or a project based on the theme of the story. Listen to stories about technology (wind farms); weather (volcanoes, snowstorms); creatures (farm animals to flying dragons); gaming characters (minecraft); culinary (creative recipes) and more! For the last class, ClayStory artists will create their own story and a project to go along with it!
Parents, rest assured… your children are escorted to our classroom. And… a one pick-up convenience for you! When you arrive, your child will say, "Come see what I made!"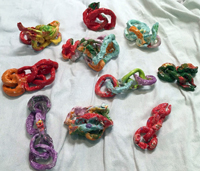 Students experiment with different clay forms (pinch pots, coil, slabs & tiles), design and patterning, red & white clays, rainbow color & bursting crystal glazes, and decorative materials (feathers, beads, ribbon, wire, pipe cleaners). All clay and glazes used are non-toxic, and firings are done off-site in a kiln.
Working with clay is a lot of fun... but also very beneficial to children! * They learn: Dexterity (using their hands/fingers as tools), visual awareness (hand/eye coordination), how to explore their curiosity, shapes and how they relate to each other, math skills and measuring, how to work with others and take pride in accomplishment! Creating with clay has a calm, soothing effect and is a nice way to end the school day! *http://www.pbs.org/parents/education/music-arts/the-importance-of-art-in-child-development/
Our instructor, Michelle Beyman, known as "Mrs. Clay & ClayLady" to her students, teaches ALL ages from her ArtCart – clay, painting/drawing & mixed media. This is her 14th school year with Wilton Continuing Education.
Class will NOT be held on Monday, January 21 & February 18.
Sessions:
8
Dates:
1/7/2019 to 3/11/2019
Meeting Time:
Location:
Miller-Driscoll School Cafeteria B
Instructor:
Michelle Beyman
Grades:
K, 1, 2
Fees:

$275.00
(Class Fee)
$22.00
(Materials & Firing Fee)

---

$297.00
Total