Create Like the Great! Mixed-media Sculpture CM08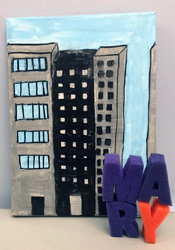 In Create Like the Great! learn about artists who create(d) unique art! Explore the artist within you and create with clay, glaze, acrylics, plaster, beads, seeds, metal/colored wire, and recycled/found materials. Turn materials into whimsical functional items, hanging mobiles, figures and more! Learn how artists use color and mix colors to create images, patterns and change how a painting, sculpture or art piece appears.
Students have learned about artists' works of art displayed at MoMA,The Metropolitan Museum of Art, the Whitney, MASS MoCA, the Hirshhorn Museum in D.C., Yale Art Museum, and galleries from Chelsea, New York to Santa Fe, New Mexico to Buenos Aires, Argentina! Artists such as Alexander Calder, Robert Indiana, Sol LeWitt, Frank Stella, Jeff Koons, Justine Smith, Picasso and Jim Dine inspired our Create Like the Great! Artists. Students even learn about street art! Their works of art will influence students to create their own masterpieces!
Art is lot of fun... but also very beneficial to children!* They learn: Dexterity (using their hands/fingers as tools), visual awareness (hand/eye coordination), how to explore their curiosity, shapes and how they relate to each other, math skills and measuring, how to work with others and take pride in accomplishment!
*http://www.pbs.org/parents/education/music-arts/the-importance-of-art-in-child-development/
**All materials are included in the program fee.**
Class will not be held on Tuesday, April 16.
Sessions:
6
Dates:
4/2/2019 to 5/14/2019
Meeting Time:

| | |
| --- | --- |
| Tuesday | 2:30 PM - 3:45 PM |

Location:
Cider Mill School Faculty Lounge
Instructor:
Michelle Beyman
Grades:
3, 4, 5
Fees:

Note: Registration has ended. Please call our offices for late registration.