Before School Colorful Collages MD06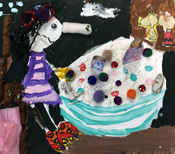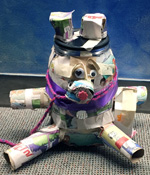 Art is a great way to start your day! Let's create colorful collages before school! On paper, cardboard, wood, and plastic bottles… using paint/paint chips, colored pencils and markers, pastels, comic strips, wrapping paper, material, yarn, pipe cleaners, magazines, foil and glitter… in greens, reds, yellow, pinks, purples, blues, whites… and recyclables like bottle caps, plastic spoons, and more…make pictures come to life!
Students will learn how to mix paint, paper and material colors to create a whole different picture. They will create ice cream cones, flowers, family and family pets, cars, houses, ponds and the beach to famous artists' paintings…their choices are endless!
**All materials are included in the program fee.**
Our instructor, Michelle Beyman, teaches ALL ages from her ArtCart – clay, painting/drawing & mixed media. This is her 14th school year with Wilton Continuing Education.
Class will not be held on Monday, April 15 & May 27.
Sessions:
8
Dates:
4/1/2019 to 6/3/2019
Meeting Time:
Location:
Miller-Driscoll School Cafeteria B
Instructor:
Michelle Beyman
Grades:
K, 1, 2
Fees: