Mixed Media with Sculpture CM15

Creating with mixed media is the hottest art form being explored. Artists are using paints, charcoal/colored pencils & markers paired with all sorts of materials: seashells and other natural items, recyclables like sea glass and bottle caps, comic strips, fabric and much more! Whether on paper, cardboard, wood, stone or plastic bottles in bursting blues, reds, oranges, greens, yellows, pinks, and purples: make artwork come to life!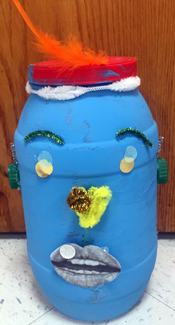 Students learn how to mix paint, paper and material colors to create a unique image: Ice cream cones, athletes, flowers, family and pets, cars, houses, ponds and the beach to famous artists' paintings. The choices are endless! Imagine all the colors we can use! Themes will include animals at Ambler Farm, walking through the woods on the Wilton Trail and Schenk's Island, horseshoe crabs at Compo Beach, a roller coaster ride at Six Flags, Fourth of July in Wilton, Birthday celebrations, Street Art and more.
Our instructor, Michelle Beyman, teaches ALL ages from her ArtCart – clay, painting/drawing & mixed media. This is her 15th school year with Wilton Continuing Education.
Note extended time! *Class ends at 3:45 pm.*
**All materials are included in the program fee.**
Class will not be held on Tuesday, April 14 & May 5.
Sessions:
8
Dates:
3/31/2020 to 6/2/2020
Meeting Time:

| | |
| --- | --- |
| Tuesday | 2:30 PM - 3:45 PM |

Location:
Cider Mill School Faculty Lounge
Instructor:
Michelle Beyman
Grades:
3, 4, 5
Fees: