ARTastic!
Monday: 3:30 PM – 4:30 PM

9/19 – 11/28
Sessions: 8
-2 Seats Available
Description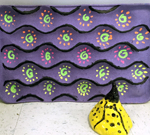 What happens when you mix artistic with fantastic? You get ARTastic creations! ARTastic is about fun, encouragement, and creativity! Everyone is an artist… we all just create in different ways… and think of the unlimited creative possibilities!
Students will learn about art, engineering, architecture, and technology. Then mix it up with art and STEM concepts – anything from sculpting polka-dotted pumpkins to turning wire coils into spinning leaf mobiles. ARTastic ARTists are inspired by the creations of artists, engineers, architects, technology wizzes, and their methods and techniques. We create with anything from kiln-fired clay & glazes to colorful air-dry clay, bending sculptural wires, glass marbles and beads, buttons, paints, canvases, wood, mesh, upcyclables and beyond! Everything you create will be your design, your choice of art and other materials, and uniquely created by YOU!
Class will not be held on Monday, September 26, October 10 & November 21.
---
---
Fees
Class Fee $300
Materials Fee $25
Total: $325
Registration has ended. Please call 203 834-7694 for late registration.