Animals in Art
New!
Tuesday: 3:30 PM – 4:30 PM

9/20 – 11/29
Sessions: 8
-4 Seats Available
Description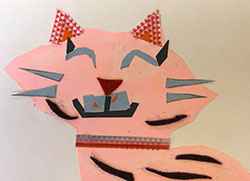 Animals in Art welcomes students who love animals and want to express their creativity through making art that is all about animals! Students will use animals and their habitats as inspiration for our art making. They will use a wide array of materials and mediums throughout the workshop, and will learn techniques to build our skills in watercolor painting, collage, and drawing. Projects will range from making animal puppets and masks, to animal portraiture and collage. This is a unique opportunity for students who are interested in animals and art! Participants will have the opportunity to make art through experimentation, exploration, and play.
A $25 materials fee is payable to the teacher at the first class.
Class will not be held on Tuesday, October 11, November 8 & 22.
---
---
Registration has ended. Please call 203 834-7694 for late registration.