ClayPlay
Wednesday: 3:30 PM – 4:30 PM

1/11 – 3/15
Sessions: 8
1 Seat Available
Description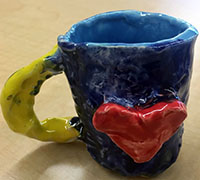 Let's create crazy snowboarders flying down the slopes, special Valentine's gifts filled with hearts & love, shivering monsters, hot cocoa cups and more! ClayPlayers create a new project every week and love making whatever they want for their last class project!
Students experiment with different clay forms (pinch pots, coil, slabs & tiles), design and patterning, red & white clays, rainbow color & bursting crystal glazes, and decorative materials (feathers, beads, ribbon, wire, pipe cleaners). They will learn how to mix glazes to create other colors, and see how crystal, crackle and textured glazes change the look of your creation after fired in a hot kiln. All clay and glazes used are non-toxic, and firings are done off-site in a kiln.
Working with clay is a lot of fun... but also very beneficial to children! *They learn: Dexterity (using their hands/fingers as tools), visual awareness (hand/eye coordination), how to explore their curiosity, shapes and how they relate to each other, math skills and measuring, how to work with others and take pride in accomplishment! Creating with clay has a calm, soothing effect and is a nice way to end the school day! *http://www.pbs.org/parents/education/music-arts/the-importance-of-art-in-child-development.
Class will not be held on Wednesday, February 22 & March 8.
---
---
Fees
Class Fee $300
Materials Fee $25
Total: $325
Registration has ended. Please call 203 834-7694 for late registration.