Ukulele Workshop: Before School (Gr 1&2)
Tuesday: 7:45 AM – 8:45 AM

1/10 – 3/7
Sessions: 8
-7 Seats Available
Description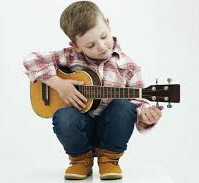 The ukulele is a fun instrument that is perfect for young children, allowing them to learn songs quickly! In a fun atmosphere, students will learn ukulele fundamentals including both plucking and strumming styles. Students will have a hands-on experience each week with the opportunity to play alone or with others. The ukulele serves as a tool to broaden student's concepts of melody, harmony, accompaniment, and rhythm. Students will learn familiar songs from music class as well as pop songs they might play at home.
"No experience necessary."
Students may bring their own ukulele or use a school provided instrument (school instruments must remain at school).
Class will not be held on Tuesday, February 21.
---
---
Registration has ended. Please call 203 834-7694 for late registration.