Soccer
Tuesday: 3:30 PM – 4:30 PM

1/10 – 3/7
Sessions: 8
-12 Seats Available
Description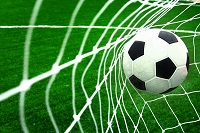 This soccer program is designed for both girls and boys who like to learn and play the game of soccer in a safe, fun and exciting way. Players will work on developing dribbling, passing, shooting, kicking and trapping skills. Students will participate in skills work for the first half of the class and then scrimmage for the second half of the class.
All necessary equipment is provided and included in the class fee. Please wear sneakers and bring a water bottle to each class.
Class will not be held on Tuesday, February 21.
---
---
Registration has ended. Please call 203 834-7694 for late registration.