3D Design & Printing with Mr. Ley (Gr 2)
Tuesday: 3:30 PM – 4:30 PM

1/10 – 3/7
Sessions: 8
-5 Seats Available
Description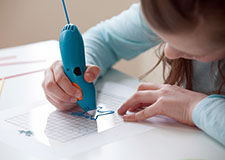 Young engineers will build a foundation in 3D modeling with hands-on designing and creating. Students will design their own 3D printer projects in the online program TinkerCad, and choose some favorites to be printed from a Makerbot 3D printer. In addition to designing on the computer, students will engage in hands-on 3D modeling with 3Doodler Start Pens, a child-safe handheld 3D printing pen. Students will also explore concepts of design by creating models with Wikki Stix, Magic Nuudles, and soap carving.
A $10 materials fee is payable to the teacher at the first class.
Class will not be held on Tuesday, February 21.
---
---
Registration has ended. Please call 203 834-7694 for late registration.