STEAM Ahead! (Gr 3-5)
New!
Tuesday: 2:30 PM – 3:30 PM

1/11 – 3/8
Sessions: 8
5 Seats Available
Description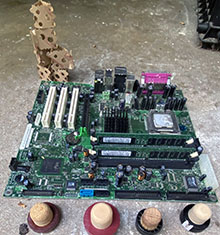 Robots, swirling snowflakes, avalanches, weird-shaped buildings… Use your imagination to design, create and build unusual projects with an artistic twist! Did you know many artists begin as engineers, designers, scientists… then use their skills to create unique art and art forms? In SteAm Ahead! students will use math skills and science knowledge to create and design innovative and fun art projects.
Each week students create a one-of-a-kind project with multiple materials. They will use clays, glazes, acrylics, plaster, beads, marbles, seeds, wood, metal/colored wire/pipe cleaners/popsicle sticks, and a lot of cool upcyclables! The possibilities are endless!
For years, our instructor, Michelle Beyman, known to her students as Mrs B, has taught mixed media which incorporates math skills, science, design, engineering while using hundreds of materials, including clay, wire and upcyclables. She often visits art museums, science centers, aquariums, galleries, beaches, forests… and more! This is her 17th school year with Wilton Continuing Education.
Class will not be held on Tuesday, February 22.
---
---
Fees
Class Fee $300
Materials Fee $20
Total: $320
Registration has ended. Please call 203 834-7694 for late registration.