Soccer: Essential Skills
New!
Monday: 2:30 PM – 3:30 PM

1/10 – 3/14
Sessions: 8
17 Seats Available
Description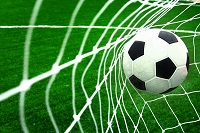 Come join Mr. Greasley, former Wilton high School Boys and W.S.A coach to continue developing your Soccer skills over the cold Winter months. Mr. Greasley will be teaching the essential skills of Soccer: first touch, foot skills, dribbling, passing, shooting, specific moves, field awareness and speed/agility. The class will help players of all ability levels stay sharp on the ball over the winter months and prepare them for the upcoming Spring season. During our time together, we will play Futsal as a way to apply the skills learned in the first half of class.
Please Bring:
Indoor Soccer Shoes
Shin Guards
Ball (Size 4 or 5 depending on age)
Water bottle
Class will not be held on Monday, January 17 & February 21.
---
---
Registration has ended. Please call 203 834-7694 for late registration.