back to class
Ritush Venugopal Paddle Tennis: Outdoor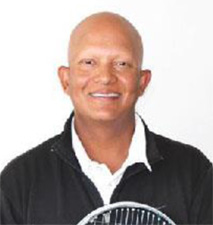 Ritush is the Head Men's Tennis Coach at Western Connecticut State University, where he led the Men's Tennis team to the program's first-ever appearance in the NCAA DIII National Tournament. Ritush has been a Director of Tennis and Junior USTA Team Tennis in the Fairfield County area for more than a decade. He is currently teaching tennis at Intensity and Director of Tennis at Rowayton Beach Club.
A native of India, Ritush reached a ranking of #1 in the juniors and was ranked in the top 10 nationally in the Men's Open division. He attended Graceland University where he was an All-American, ranked in the top 5 and achieved an impressive 4-year winning record of 168 & 4. After graduating, his success continued on the court as he reached #1 in both singles and doubles in the New England and Eastern Divisions. He competed in the Hamlet Cup, and he won New Haven Open in 1997, earning him a wild card into the Pilot Pen. Ritush was a top player of the New York Men's Open Team that represented the Eastern Division at the National Championship Tournament in Las Vegas, where they were finalists in 2004 and became National Champions in 2005. In 2006, Ritush was a guest speaker at the USPTA Eastern Convention.
Ritush is a certified PPTA Professional 1 instructor and teaches paddle at multiple private clubs in Fairfield County. Ritush has introduced instruction and adult clinics in the town of Lewisboro, a potential paddle area that needs growth. He is a activate competitor in both Fairfield and Westchester County leagues. He conducted APTA clinics and exhibitions in Washington, Baltimore, and Stonington circuit with the exhibition and clinic Director.
Ritush also has compiled an impressive history of directorships, coaching, and developing young people. Prior to his current positions, he was the Director of Elite Junior Tennis at the Four Season Racquet Club for 5 years. In 2010, he led Four Season Racquet Club juniors to its first USTA Jr. Team Tennis National Championship Tournament in Surprise, Arizona. He was also the Director of Tennis at the Ridgefield Athletic Club for over 10 years where he built the program from inception and maximized the Junior Development Program. He coached several USTA Junior Team Tennis divisions to many state, sectional, and 4 National Championship Tournaments.
He was Director of Tennis at Weston Field Club from 2008-2010, where he was instrumental in developing USTA Junior Team Tennis and organizing the Fairfield County Women's Tennis League. Ritush was the head coordinator of the Fairfield County Laurel Cup Junior Team Tennis League from 1998-2006. He coached the Ridgefield High School Boys' and Girls' Varsity High School Tennis Team for a combined 7 years. In 2007, he mentored the New England Men's USTA 3.5 team at the USTA National Championship Tournament in Las Vegas, Nevada.
Ritush is a certified USPTA Professional 1. He has his certification in Cardio Tennis, Quick Start Tennis and Etcheberry Fitness Training. He is the owner of RV Tennis Gear as well as an authorized Babolat and Wilson Dealer, Team Babolat member, Wilson Dealer and a member of the United States Racquet Stringing Association.
When not playing or teaching tennis and paddle, Ritush enjoys playing competitive soccer, and spending time with his wife, JoDee, and their son, Rohan. He is a resident of Redding Connecticut and can be reached through email at ritushv@gmail.com or by phone 203-512-5740.